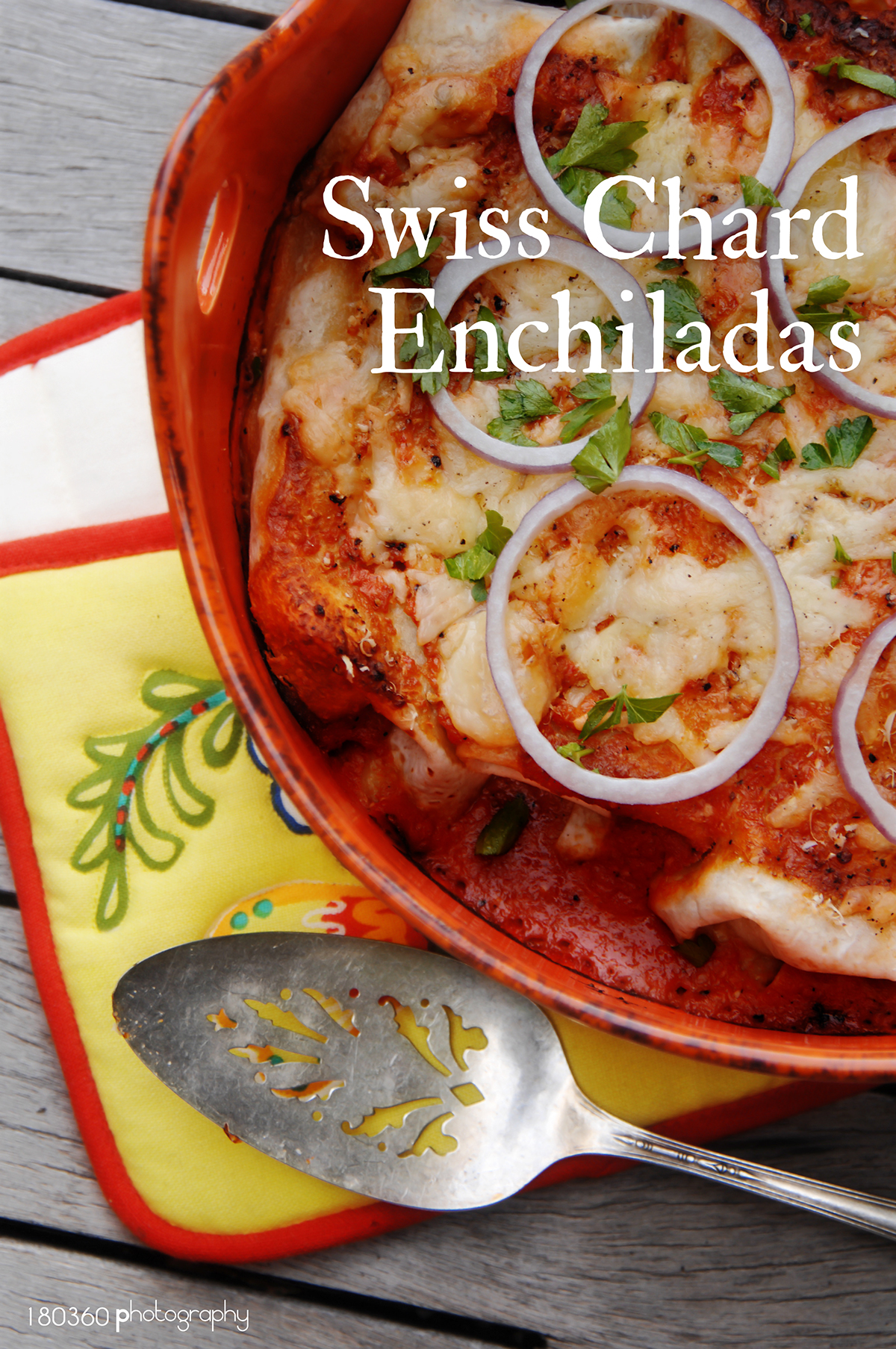 Swiss Chard Enchiladas
2013-03-30 13:27:01
Ingredients
3 peeled garlic cloves
1-3 seeded jalapenos (or other fresh chili peppers)
1.5 lbs of tomatoes or tomatillos
2 tsp. salt
1 cup of vegetable broth or bean cooking liquid
3 TBL of sour cream, Mexican crema, creme fraiche or thick, Greek yogurt*
1 tsp of sugar
3 TBL of vegetable oil (I prefer Safflower)
2 bunches of Swiss Chard rinsed under cold water
1 medium onion, chopped (white or yellow)
1/4 cup of water
4 cups of cheese (I used 1 1/3 cup of each: Monterey Jack, Pepper Jack and Sharp White Cheddar)
16 oz container of sour cream*
6-8 burrito sized flour tortillas (depending upon how full you fill them)
1/4 cup of freshly grated parmigiano reggiano
1/2 large, red onion cut into rings
handful of fresh cilantro or Italian parsley
freshly ground pepper
* OPTION: you could take the 3 TBL from the 16oz container of sour cream or use a separate one for extra creaminess.
Instructions
Preheat oven to 375 degrees F.
To make the sauce: combine garlic, jalapenos, and 1tsp. of salt in blender and puree until smooth.
In a medium saucepan, heat 1.5 TBL of oil over medium high heat.
Add puree and reduce to thicken sauce, stirring regularly. Do not scorch!
Add the broth and reduce heat to simmer.
After 10 minutes, turn off heat and stir in 3 TBL of sour cream and 1 tsp of sugar.
Taste and add more salt if needed.
(If sauce is too thin, simmer longer. If sauce is too thick, add more broth.)
Turn off heat and allow to cool.
Prepare the chard by: stripping the leaves from the stems, then cutting leaves into a rough chiffonade, about 1/2" wide.
Rinse the chiffonade under cold water to remove any grit, set aside.
Chop the remaining stems finely, then rinse under cold water as well.
In a large, lidded saute pan, heat the remaining 1.5 TBL of oil over a high flame.
Add the chopped onion and fry for a minute or two.
Then add the chard stems and saute for another minute or so.
Finally, add the chard leaves (in batches if necessary) and toss to combine.
Add 1/4 cup of water, 1 tsp. of salt, then cover and reduce heat to low.
Cook for about 15 minutes, stirring occasionally until thoroughly wilted and tender.
Remove lid and cook off remaining water until fairly dry.
To make the filling: in a large bowl, combine the chard and onion mixture
with the cheese and remaining sour cream. Season to taste.
To assemble: Ladle about 1 cup of sauce into your glass or ceramic dish (1- 9x13 casserole or 2 smaller dishes.)
Fill each tortilla with 2-3 spoonfuls of filling, fold ends in, wrap tightly, then lay in dish with seam side down.
Pour the remaining sauce over the top, then add the remaining cup of cheese (1/3 of each type if you used a mixture), plus the 1/4 cup of parmesan. Top with freshly ground pepper.
Bake at 375 degrees F for 45 minutes or until bubbling and golden brown on top.
Allow to rest for 5-10 minutes before cutting.
Top with cilantro or italian parsley and red onion rings.
Notes
Serving suggestions: sour cream, fresh salsa, pinto beans (preferably Rancho Gordo) and Bohemia Beer!
Adapted from Rick Bayless
Adapted from Rick Bayless
180360 https://www.180360.com/