I'm willing to bet that nearly every American could recall a movie or advertising image they've seen from Monument Valley. However, nothing quite beats driving around that bend on US-163 and seeing it in real life. It's funny how well-known places tend to be different in person; sometimes for the worse, but in this case, for the better. There's far more to it than those three iconic mounds.
Truthfully, I knew almost nothing about the area. For instance, I didn't even realize Monument Valley is in both Arizona and Utah! (This can be a bit confusing with regard to time zones.) Nor did I know those recognizable buttes above are called "The Mittens." And like most areas in the Southwest, a Navajo tour guide is pretty much a necessity in order to see anything off the beaten path.
Good thing I discovered Navajo Spirit Tours on TripAdvisor! I booked with them hoping they'd teach us all we needed to know. I've never been a big fan of guided tours, but they had so many amazing reviews, they won me over. The tours involve a 2-3 hour (or more) off-roading adventure with a Native American in an open air vehicle into the back country. The guides are locals that have been intrinsically connected to the area for generations. They explain the history of their people and culture, as well as the names and meanings behind the different rock formations.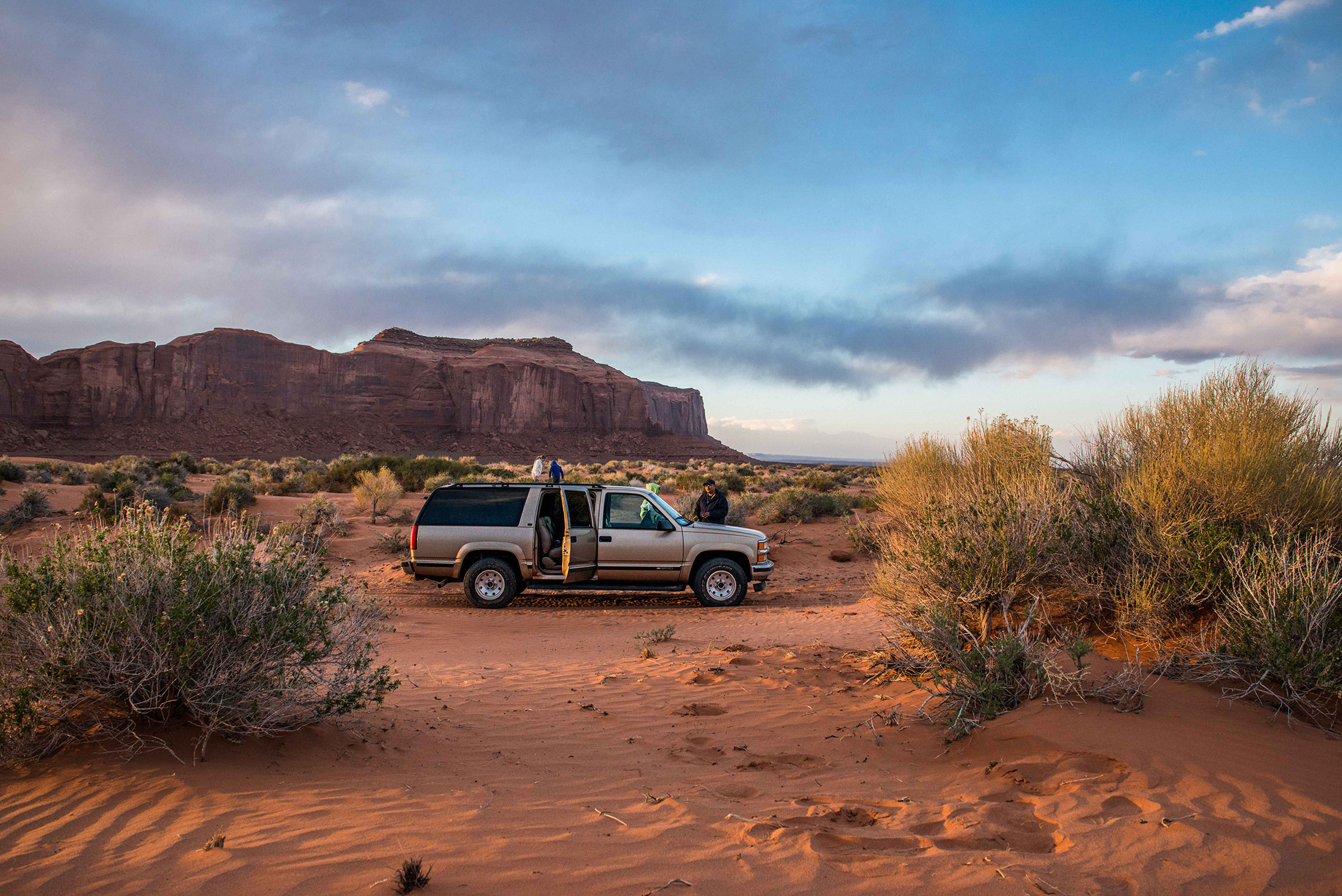 As much as I would've liked to spend the day trekking around the valley, we needed an option that would accommodate our 2 children and baby. Luckily, Navajo Spirit Tours were more than willing to accommodate. We met up with our guide, "Will Cowboy," in the lobby of our hotel and off we went riding into the red dust like John Wayne, or more likely like Clark Griswold and Beverly D'Angelo in National Lampoon's Vacation, but in a 1980's Suburban instead of a station wagon.
It was a wild and bumpy ride. The children happily bounced around the back seat. The baby fell asleep in my husband's arms (!!) 30 seconds into the drive. Will Cowboy didn't mind stopping whenever I wanted a photo. In fact, he encouraged it! We chased the sun until the full moon arose in the sky. It was my kind of adventure…
The Hand of the God
Arches Mesa
Petroglyphs near the Sun's Eye
The Sun's Eye
Max and more petroglyphs
Roots
Totem Pole and Yei Bi Chei
The Valley Drive and North Window
Sand Springs
The Three Sisters
Moonrise
It's no wonder why Monument Valley is seared into our memory. It has starred in countless films, television shows, commercials, video games, and music videos. But none of those can compare to absorbing its expansive beauty in person. It is wild and yet austere. And although the different mesas, buttes and rock formations are all truly impressive, the underlying history of its people stands out the most. One can't help but feel the ancestors in the land and the movie stars in the dust.